U-Bend Stainless Steel Tubes Package
'U' Bend Stainless Steel Tubes are manufactured in our plant as per the customer requirements. Bends can be Heat Treated in accordance with Clients' requirements followed by hydrostatic testing and dye penetrant testing if required.

U bent tubes are widely used in heat-exchanger systems. Heat exchanger equipment on the basis of stainless U-tube is essential in strategically important and critical fields nuclear and petrochemical machine building.

U-tube heat exchangers Designed for high temperature applications, especially steam condensing or hot oil systems. Thïs model is selected when differential expansion makes a fixed tube sheet exchanger unsuitable and when conditions preclude a floating head type (HPF) selection.

Surface condition Finished U-tubes shall be free of scale, without scratches after bending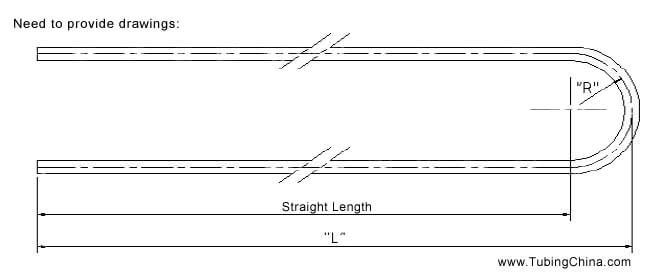 Dimensional tolerances U tubes acc. to TEMA R.C.B.

1) Length of straight part -0/+5 mm
Flattening (also called "ovality") at the bend shall not exceed 10% of the nominal tube outside diameter.
Wall thickness in bending part acc. to TEMA R.C.B 2.31

2) Minimum tube wall thickness in the bend part (T min)T(min) ≥ (SW × (2×R + D))/( 2× (R+D)
where: SW is smallest wall thickness
D Nominal outside diameter
R radius

3)Radius tolerance
1) for R 100 mm +/- 3 mm
2) for R ≥ 100 mm +/- 5 mm

4). Straightness tolerance max. 1,5 mm per 1 m
U-Tube ends: plain, vertically cut to the tube axis

Tubes OD in mm can be bent upon agreement: 15.8 16.0 17.0 18.0 19.05 20.0 21.3 25.4 26.7 31.8 32.0 38.1mm

Initial Length
Maximum lengths of 27000mm can be supplied on request

Bending radius
Minimum: 1.5×OD
Maximum: 1500 mm

The dimensions for heat exchanger tubes in special grades may differ from the above,please contact us.

Our Tube-bending production line, installed at 2007, will allow to produce U-tubes as per standards:

1. ASTM A688/A688M-15 Specification for Seamless and Welded Austenitic Stainless Steel Feedwater Heater Tubes
2. ASTM A803/A803M-12 Standard Specification for Seamless and Welded Ferritic Stainless Steel Feedwater Heater Tubes
3. ASTM A556/A556M-12 Standard Specification for Seamless Cold-Drawn Carbon Steel Feedwater Heater Tubes

Main Testing Terms and Procedure:


1. Heat Treatment and Solution Annealing / Bright Annealing
2. Cutting to required length and deburring;
3. Chemical Composition Analysis Test With 100% PMI and One tube from each heat by Direct Reading Spectrometer
4. Visual Test and Endoscope Test for Surface Quality Test
5. 100% Hydrostatic Test and 100% Eddy Current Test
6. Ultrasonic Test subject to the MPS (Material Purchase Specification)
7. Mechanical Tests includes Tension Test, Flattening Test, Flaring Test, Hardness Test
8. Impact Test subject to Standard request
9. Grain Size Test and Intergranular Corrosion Test
10. Ultrasoic measuring of Wall Thickness
11. Stress Relieve Annealing on U bend Parts after bending

Other details:
a. All tubes are cut to the specified leg lengths and internally cleaned with air, ends are deburred.
b. Before packing, both ends of U-bends are capped with plastic caps.
c. Vertical separators for each radius.
d. Packing lists, covered with plastic, are placed on each plywood case for easy identification of order details, including exact list of radius and lengths inside.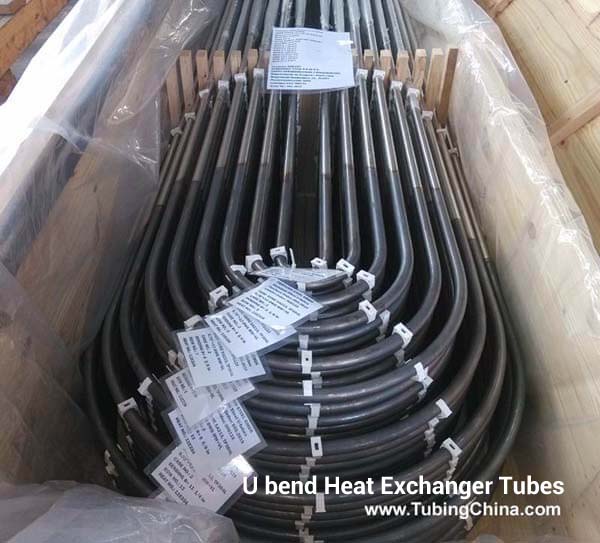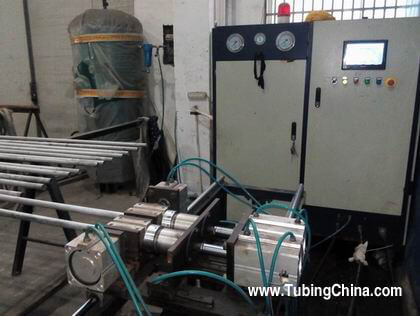 U-Bend Stainless Steel Tubes Package U Bend Tubing Hydrostatic Testing after Bend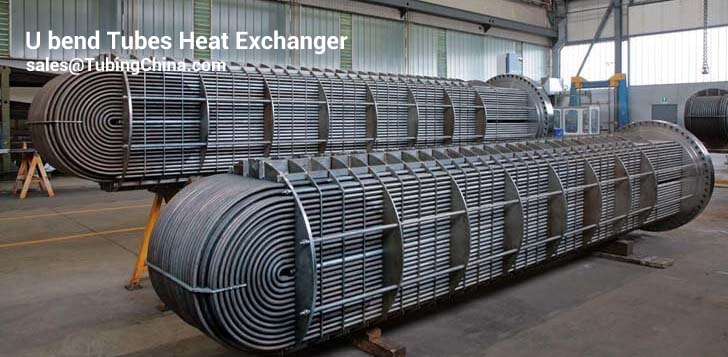 U Bend Stainless Steel Tubing for Heat Exchanger
Grade(UNS):

Austenitic Stainless Steel:
304/304L/304H(1.4301/1.4306/1.4948); 316/316L(1.4401/1.4404); 316Ti(1.4571); 321(1.4541); 309S (1.4833); 310S(1.4845); 317L(1.4438)321H(1.4878); 347H (1.4550);

Duplex Stainless Steel:
S32001, S32003, S31500, 2205(1.4462); S32304,(1.4362);S31803,2507 (S32750), S32760(1.4501);S32101(1.4162);

Super Austenitic Stainless Steel: 904L, S30432, S31042, 6Mo (S31254, N08367)

Nickel Base Alloy:
Alloy 20 (UNS N08020), Monel 200 (UNS 02200), Monel 400 (UNS N04400), Incoloy 800 (UNS N08800), Incoloy 800H (UNS N08810), Incoloy 800HT (UNS N08811), Incoloy 825 (UNS N08825), Inconel 600 (UNS N06600), 4J29, 4J36, GH3030, GH3039, C276 (UNS N10276)

Martensitic Stainless Steel:410(1.4006), 410S(1.4000), 420(1.4021)

Ferritic Stainless Steel:405(1.4002), 430(1.4016)



Outside Diameter:

15.8 16.0 17.0 18.0 19.05 20.0 21.3 25.4 26.7 31.8 32.0 38.1mm

Wall Thickness:

0.50 - 6mm

Standards(Norm):
EN 10216-5; DIN 17456, DIN 17458, DIN 2462, DIN 17455

GB/T14975; T14976; T13296; GB5310;

ASTM A213, A269, A312, A511, A789, A790, A928, A999, A1016, ASTM B161, ASTM B163, ASTM B165, ASTM B167, ASTM B338, ASTM B407, ASTM B423, ASTM B444,ASTM B619, ASTM B622, ASTM B626, ASTM B668, ASTM B677, ASTM B829

JIS G3459, JIS G3463, JIS G3446, JIS G3447, JIS G3448, JIS G3468

GOST 9940;GOST 9941;