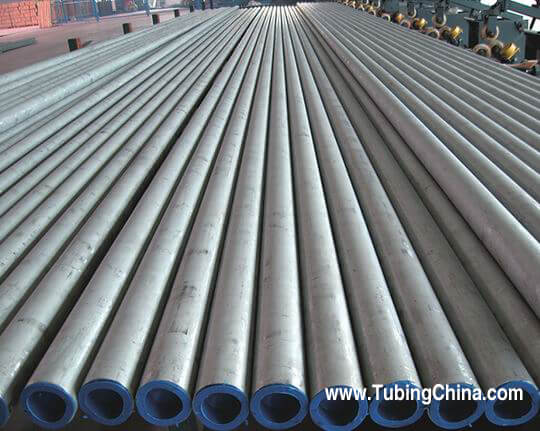 Duplex stainless steel (DSS) is featured with structure of two phases (α and γ) and has characteristics of both ferritic and austenitic stainless steel. It has good corrosion resistance and high strength. It is alloyed with 18%-28% Cr and 3%-10% Ni in the condition of low C. Some steels also contain the alloy elements such as Mo, Cu, Nb, Ti and N, etc. Comparing with ferritic stainless, duplex stainless steel has higher plasticity, ductility and better intergranular corrosion resistance and weldability. It keeps same 475℃ brittleness with ferritic stainless and high thermal conductivity. Duplex has improved yield strength, resistance to intergranular corrosion, stress corrosion, corrosion fatigue and abrasion & corrosion compared with austenitic stainless steel.

Alloy 2205 UNS S32305/S31803 is a 22% chromium, 3% molybdenum, 5-6% nickel, nitrogen alloyed duplex stainless steel with high general, localized, and stress corrosion resistance properties in addition to high strength and excellent impact toughness.
Alloy 2205 provides pitting and crevice corrosion resistance superior to 316L or 317L austenitic stainless steel tube in almost all corrosive media. It also has high corrosion and erosion fatigue properties as well as lower thermal expansion and higher thermal conductivity than austenitic.
2101 is a low nickel, lean duplex stainless steel possessing both superior strength and chloride stress-corrosion cracking resistance when compared to 300 series stainless steel.

2304 A lean austenitic-ferritic duplex stainless steel with general corrosion resistance similar to 316, but with yield strength nearly double that of austenitic stainless steel.

S31803 and S32205 are standard duplex stainless steel. A nitrogen, molybdenum enhanced austenitic-ferritic duplex stainless steel with general corrosion resistance similar to 904L, but with a yield strength nearly double that of austenitic stainless steel.

2507 (PREN 40-45), with 25-26 Cr and increased Mo and N compared with the 25Cr grades. A super austenitic-ferritic duplex stainless steel with exceptional strength and corrosion resistance ideal for chemical process, petrochemical, and seawater applications.

Duplex Stainless Steel Pipe Specifications:
ASTM A789 Standard Specification for Seamless and Welded Ferritic/Austenitic Stainless Steel Tubing for General Service
ASTM A790 (ASME SA790) Standard Specification for Seamless and Welded Ferritic/Austenitic Stainless Steel Pipe
ASTM A928 (ASME SA928) Standard Specification for Ferritic/Austenitic (Duplex) Stainless Steel Pipe Electric Fusion Welded with Addition of Filler Metal
GB/T 21832-2008 Austenitic--Ferritic(duplex) grade stainless steel welded tubes and pipes
GB/T 21833-2008 Austenitic-Ferritic (duplex) grade stainlee steel seamless tubes and pipes

Duplex Stainless Steel Pipe Features:

1.Superior resistance to general and local corrosion, especially to stress corrosion, pitting corrosion, crevice corrosion, corrosion fatigue and abrasion & corrosion.
2.Good weldability
3.Good mechanical properties
4.Excellent intergranular corrosion resistance
5.High cost-effectiveness, long life time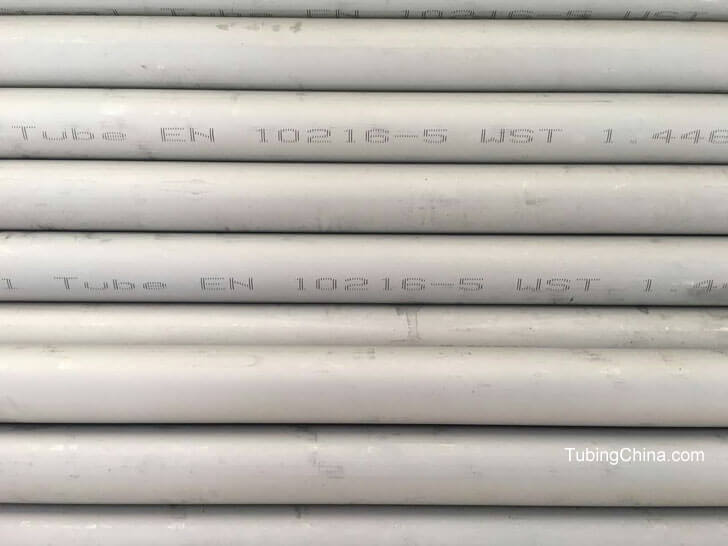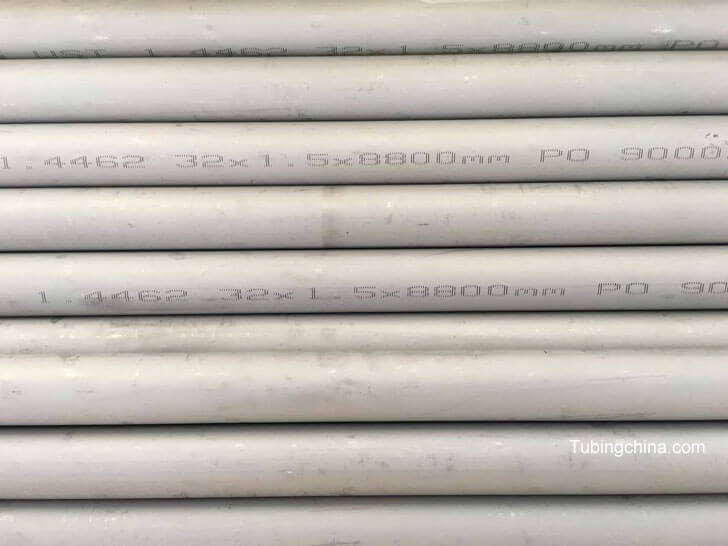 Main Testing Terms and Procedure:
1. Heat Treatment and Solution Annealing / Bright Annealing
2. Cutting to required length and deburring;
3. Chemical Composition Analysis Test With 100% PMI and One tube from each heat by Direct Reading Spectrometer
4. Visual Test and Endoscope Test for Surface Quality Test
5. 100% Hydrostatic Test and 100% Eddy Current Test
6. Ultrasonic Test subject to the MPS (Material Purchase Specification)
7. Mechanical Tests includes Tension Test, Flattening Test, Flaring Test, Hardness Test
8. Impact Test subject to Standard request
9. Grain Size Test and Intergranular Corrosion Test
10. Ultrasoic measuring of Wall Thickness
Marking & Packing
Marking according to MPS and Standard
Stainless Steel Tubes Ends with Caps according to PO
In Seaworthy Wooden Cases With Plastic Paper protect
In Plywood Cases With Plastic Paper Protect(Recommend, All Plywood Cases made by ourselves with lower cost.)
Steel Racks Package
Hexagonal packing in Bundles
Quality Control
Third Part Inspection Accepted according to EN 10204 3.2
ISO 9001 - 2008 issued by Lloyd's,
PED 97/23/EC By Lloyd's,
ASME Boiler and Pressure Vessel Code Certificated Certificate Issued by TUV
Physics Capability
density: 7.85g/cm3
Grade(UNS):

Duplex Stainless Steel:
S32001, S32003, S31500, 2205(1.4462); S32304,(1.4362);S31803,2507 (S32750), S32760(1.4501);S32101(1.4162);

Super Austenitic Stainless Steel: 904L, S30432, S31042, 6Mo (S31254, N08367)



Outside Diameter(OD):

6 - 323.8mm

Wall Thickness(WT):

0.50 - 30mm

Standards(Norm):
EN 10216-5; DIN 17456, DIN 17458, DIN 2462, DIN 17455

GB/T14975; T14976; T13296; GB5310;

ASTM A213, A269, A312, A511, A789, A790, A928, A999, A1016, ASTM B161, ASTM B163, ASTM B165, ASTM B167, ASTM B338, ASTM B407, ASTM B423, ASTM B444,ASTM B619, ASTM B622, ASTM B626, ASTM B668, ASTM B677, ASTM B829

JIS G3459, JIS G3463, JIS G3446, JIS G3447, JIS G3448, JIS G3468

GOST 9940;GOST 9941;
Related References:
1. Duplex Stainless Steel Pipe
2. Duplex Stainless Steel
3. Super-Duplex Stainless Steel
4. Principle of Duplex Stainless Steel
5. How the Austenite Ferrite Balance Achieved
6. Corrosion Resistance of Duplex Stainless Steel
7. Stress Corrosion Cracking SCC of Duplex Stainless Steel
8. Barrier to Using Duplex Stainless Steel
9. Duplex Stainless Steel Grades Comparison Table
10. S32101 | S32205/S31803 | S32304 | S32750 | S32760