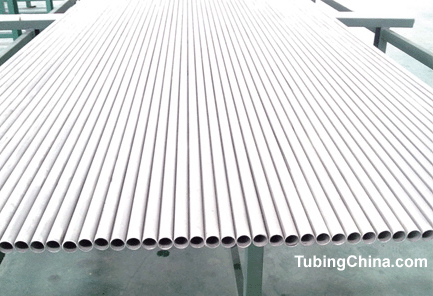 Stainless Steel Seamless Pipe is a hollow steel bar, a large number of pipes used for conveying fluids, such as oil, gas, water, gas, steam,heat exchanger,mechinical machine. In addition, engaging in bending, torsional strength of the same, lighter, and they are also widely used in the manufacture of mechanical parts and engineering structures. Also used in producing all kinds of conventional weapons, the barrel, artillery shells and so on.

The classification of stainless steel seamless pipe Stainless steel tubing at seam pipe have two broad categories. By the cross sectional shape can be divided into special-shaped pipe and tubes, widely used are circular steel tube, but there are also a number of square, rectangular, semi-circular, hexagon, equilateral triangle, octagon and special-shaped steel tub.

For the steel tube under fluid pressure hydraulic pressure test should be conducted to test its capabilities and the quality of voltage, in the provisions does not happen under the pressure of leakage, wet or expansion of qualified, some even based on standard steel pipe or crimping demand-side requirements test, flaring test, flattening test.

Seamless stainless steel tube: seamless steel pipe or solid steel ingot are used by the perforated tube made of capillary, and then by the hot-rolled, cold-rolled or cold call made. The specifications of seamless steel pipe with outer diameter * wall thickness of a few millimeters express. Hours of hot-rolled and cold-rolled seamless steel pipe types of steel pipe.
Grade(UNS):

Austenitic Stainless Steel:
304/304L/304H(1.4301/1.4306/1.4948); 316/316L(1.4401/1.4404); 316Ti(1.4571); 321(1.4541); 309S (1.4833); 310S(1.4845); 317L(1.4438)321H(1.4878); 347H (1.4550);

Duplex Stainless Steel:
S32001, S32003, S31500, 2205(1.4462); S32304,(1.4362);S31803,2507 (S32750), S32760(1.4501);S32101(1.4162);

Super Austenitic Stainless Steel: 904L, S30432, S31042, 6Mo (S31254, N08367)

Nickel Base Alloys:
Alloy 20 (UNS N08020), Monel 200 (UNS 02200), Monel 400 (UNS N04400), Incoloy 800 (UNS N08800), Incoloy 800H (UNS N08810), Incoloy 800HT (UNS N08811), Incoloy 825 (UNS N08825), Inconel 600 (UNS N06600), 4J29, 4J36, GH3030, GH3039, C276 (UNS N10276)

Martensitic Stainless Steel:410(1.4006), 410S(1.4000), 420(1.4021)

Ferritic Stainless Steel:405(1.4002), 430(1.4016)



Outside Diameter:

6 - 830mm

Wall Thickness:

0.50 - 60mm

Standards(Norm):
EN 10216-5; DIN 17456, DIN 17458, DIN 2462, DIN 17455

GB/T14975; T14976; T13296; GB5310;

ASTM A213, A269, A312, A511, A789, A790, A928, A999, A1016, ASTM B161, ASTM B163, ASTM B165, ASTM B167, ASTM B338, ASTM B407, ASTM B423, ASTM B444,ASTM B619, ASTM B622, ASTM B626, ASTM B668, ASTM B677, ASTM B829

JIS G3459, JIS G3463, JIS G3446, JIS G3447, JIS G3448, JIS G3468

GOST 9940;GOST 9941;
Use of stainless steel under high temperature condition refer table
Corrosion Resistant Stainless Steel Tube
Corrosion Resistance of Stainless Steel Tubes
High Temperature Stainless Steel Tubes
High Temperature Stainless Steel Tubes
Heat resistant Stainless Steel Tubes
Welded Stainless Steel Pipe
U-bend Stainless Steel Tubes
Steel Tube Pipe Classification
Nickel Alloys Pipes and Tubes
Heat Exchanger Tubes
Duplex Stainless Steel Tubes
Boiler Tubes, Condenser Tubes
Stainless Steel Tube Fitting
Corrugated Seamless Stainless Steel Pipe Tube
DIN 2391 Seamless Precision Steel Tubes
DIN2391 Seamless Pricision Steel Tube Tubing Tubes
Non Acid-resisting Stainless Steel Tube
Bright Annealing Stainless Steel Tubes
Hydraulic and instrumentation tube
High Temperature-Tubes and Pipes Standards
High Temperature Property Stainless Steel
Heat Resistant Stainless Steels and Corrosion Resistant Stainless Steels-Valve Steels,Iron Baes Super alloys